Suspicious Package
Preview Version for macOS "Monterey"
Download Suspicious Package disk image
| | |
| --- | --- |
| Version | 3.7.1 Monterey Preview (773.2) |
| Bundle Identifier | com.mothersruin.SuspiciousPackageApp |
| Code Signature | Developer ID Application: Randy Saldinger (936EB786NH) |
| Notarized On | Thu Jun 17 09:13:24 PST 2021 |
| Download Container | Signed Disk Image |
| Download Bytes | 5664884 |
| Download SHA256 | e23189a965436f1ac7cad42642ec0d0f013f58eadf6a3e5ef765a5c716ce2e1c |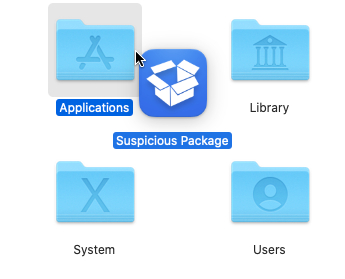 Read below before installing this special "preview" version of Suspicious Package.
To date, we have done only limited testing of Suspicious Package on the beta version of macOS 12 (Monterey). But since we know of at least one serious problem (see below), we are making this special "preview" build available for those who want to try it.
Note that this is not a fully-tested version of Suspicious Package. We expect to release a proper update with Monterey support, closer to Apple's release of the new macOS.
We will update this page as needed, if we find other significant issues. If you use this preview version, it will notify you of any future Monterey Preview updates, but you may want to check this page directly if you experience problems.
Suspicious Package and the macOS 12 (Monterey) Beta
On macOS 12 beta 1 (21A5248p), if you open a package that has a receipt from a previous installation, Suspicious Package 3.7 will crash. This can also happen when selecting a package in the Finder, if Suspicious Package's Quick Look Preview extension is activated. This is fixed by Suspicious Package 3.7.1 Monterey Preview.
If you run into other isues with Suspicious Package on the macOS 12 beta, we would appreciate your telling us about them.