Suspicious Package
Download & Install
Download Suspicious Package disk image
| | |
| --- | --- |
| Version | 3.5.3 (586) |
| Bundle Identifier | com.mothersruin.SuspiciousPackageApp |
| Code Signature | Developer ID Application: Randy Saldinger (936EB786NH) |
| Notarized On | Thu Apr 02 09:39:48 PST 2020 |
| Download Container | Signed Disk Image |
| Download Bytes | 4288805 |
| Download SHA256 | fad69db99a60058f8136954653fa2de81667f12cb731957a6d921d36ceaf195d |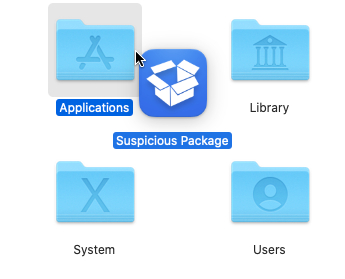 Download and open the disk image above.
Drag Suspicious Package to your Applications folder, or wherever else you'd like to keep it.
After copying Suspicious Package, you can eject the disk image and move it to the trash.
Suspicious Package requires macOS 10.15 (Catalina), macOS 10.14 (Mojave) or macOS 10.13 (High Sierra). If you're running an older version of macOS, see more info here.
If Quick Look doesn't seem to be using Suspicious Package to preview packages, see more info here.